It is not uncommon for brides to be passed down wedding dresses from family members. This is a very touching thing, and typically we see mothers or grandmothers who want their daughters or granddaughters to wear the dress they wore on their big day.
Inherited Wedding Dress Alterations
Just because you inherit a wedding dress does not mean you cannot make it your own. As long as your loved one is happy for you to do so, alterations are available to truly make this dress your own. If there is something you don't like about the dress, but you would really love to wear something that is so significant and sentimental, alterations can make a big difference.
Add or Remove Appliques
If you find the dress feels too plain for what you had in mind, appliques can be added to a gown. Whether you want some more embellishment, a lace overlay, or some fabric flowers added on, adding appliques is easily done. Similarly, if there are appliques on the gown that you do not particularly like, these can be removed and either left plain or replaced with something you prefer. In general appliques are quite simple to add and remove, and your seamstress will be able to pin any additions in place so you can make a decision before they are attached to the gown.
Alter the Neckline
The neckline has a big impact on the overall look of a wedding dress. Sometimes just simply changing the neckline can be all it takes to transform the dress from somebody else's dress, to the dress of your dreams. The style of neckline the dress already has will impact how much can be changed, but a professional seamstress will be able to talk you through all of your options. 
Change the Style
There are occasions where the shape and style of your dress can be changed. This tends to be a larger job, so it is important to get your initial consultation booked in as early as possible. Again, the style you can change to is dependent on what the dress already looks like, but there is definitely potential to reshape a gown to your preference. On some occasions it can even be as simple as adding some extra tulle under your gown for a fuller appearance.
Tailor
If the dress truly does feel perfect to you design and style wise, then you can simply have the dress tailored to you. Some people are under the misconception that only new dresses can be efficiently fitted to you, though this is absolutely not true. Seamstresses will happily work on a pre-worn dress and work with you and your body shape until you are completely happy with how your dress fits.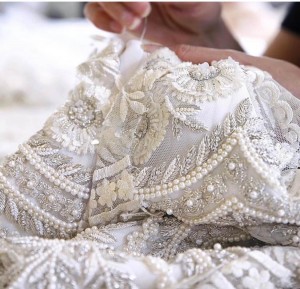 These are just a few of the alterations that can be completed on an inherited wedding dress. When you inherit a dress you don't have to keep it the exact same as it was for the previous bride. This is your time to be uniquely yourself, and there are alterations available to transform it into your dream gown. 
If you are unsure on what exactly you feel needs to be done to the dress, book a complimentary consultation and our seamstresses will be more than happy to help you decide.
---