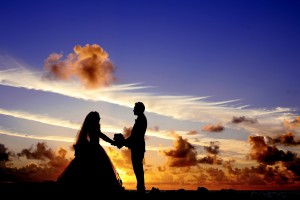 Three trends we're expecting to see in 2022 weddings 
After a tough couple of years with differing lockdowns and restrictions around, engaged couples are looking forward to 2022 with renewed hope and excitement. Along with more weddings come more new wedding trends, and we look forward to seeing all of the different trends that will be coming out of weddings over the next year. That being said, we definitely have some predictions of what we can expect to see. Keep reading to discover the biggest wedding trends we expect to see next year.
Two-piece wedding dresses
Over the past few years, we have seen a few two-piece wedding dresses hitting the scene, and it appears that this year they'll be more popular than ever. While there have been a few out there, they were all very specific and contemporary, whereas now more versions are coming to life including those with a vintage feel while having the modern two-piece design. You can even get mix-and-match two-pieces now which give you complete control over your look.
Two-piece dresses can be easily transformed throughout the day as well, by switching up either the skirt or the top. You could even change to trousers for the reception to really mix things up. If you have a specific idea in mind, you can make your own two-piece with the help of your seamstress and design something uniquely yours.
Destination weddings
With travel restrictions ruining the idea of destination weddings for the majority of the past two years, we expect to see more destination weddings than ever. The desire to travel to another location for your wedding day seems to be at an all-time high after so long of not being able to, and we would predict that summer 2022 will bring a lot of destination weddings along with it. 
While destination weddings are usually smaller due to the higher cost, a lot of people are now finding the idea of a smaller wedding much more appealing. Spending intimate time with those closest to you on your big day and then celebrating with others at a later date.
Wedding scent 
Adding a scent to your wedding is something we've been seeing an increase in popularity in recent years, and it's a special touch that creates a multi-sensory experience for your wedding day. Not only does this mean your wedding day smells amazing, but it also means you have something to remember your big day forever. 
Smells can be used to enhance memories, so if you choose a scent and have these candles around on your big day or use it as your perfume when you smell that scent again you will be able to sit and reminisce about your big day.
After a lot of uncertainty, we are looking forward to seeing more weddings throughout the year. Despite the trends, the most important thing is to make sure your day is perfect for you, and that you can look back on your big day forever with fond memories. 
---