Maternity Wedding Dresses: Gowns Fit for Two 
So you've found out you're pregnant while planning your wedding, first of all, congratulations! Not only are you on a journey to start a new life as a married couple, but you are also on the road to becoming a family. The good thing is that for the most part there is nothing about your wedding that you actually need to change (unless you were planning on doing something extravagant on a high-wire or needed to travel abroad when you will be over 28 weeks).
As long as you were planning a standard home-based wedding, the only thing you really need to change about the wedding is what you are planning on wearing on your big day. Whether you are looking for the best style of dress to maintain your bump, or you've already bought your gown and need some advice, we've got you covered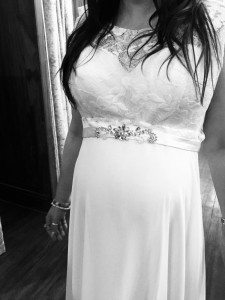 .
What Dresses Are Best for Pregnant Brides?
These are, of course, just recommendations for dresses that fit around a baby bump best meaning it is more comfortable and requires fewer alterations. If you have had your heart set on a ball gown or fishtail dress for years, you can absolutely still wear this, just with your baby bump as an extra accessory.
Empire Waist
An empire waist gown has a waist that sits right underneath your breasts, which is perfect for any sized bump. The skirt on empire waist gowns is floaty and flexible, which means that as your bump grows it won't need a lot of alterations, instead the material will just fit around your bump. 
A-line
A-line gowns are a great option for a pregnant bride. They have a full skirt while still giving you some shape by having the waist slightly lower than that of an empire waist dress. Similarly to the empire waist gown, the material gives room for your bump to grow and won't feel like it's restricting you and your bump while you're in a big wedding gown all day.
What If I've Already Bought My Gown?
Alterations
If you found out you are pregnant after purchasing your gown already, there is no need to panic! Maternity Weddin Dress Alterations are available and can be done to make room for your growing belly. This really depends on the style of dress and how pregnant you will be on your wedding day. Your best plan of action would be to visit a professional seamstress as soon as possible to discuss your options, they'll be able to tell you how much room the dress has and if the dress will be adjustable for a pregnancy. 
Purchase a New Gown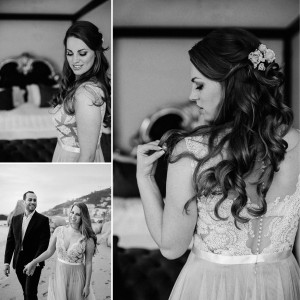 If you are not happy with how your original gown is going to look on your when you're pregnant, or there is not enough material to alter it appropriately to fit your bump, then purchasing a new dress maybe your best option. Just because you are pregnant
 on your wedding day doesn't mean you should have to compromise, so take yourself wedding dress shopping again now that you can plan for your growing bump.
Whether you were planning a pregnancy or it's come as a surprise, you don't have to compromise your perfect wedding day. Get yourself the perfect gown for you and your bump, with alterations available to make sure it fits you perfectly!
Get in touch for more information on our wedding dress alterations.