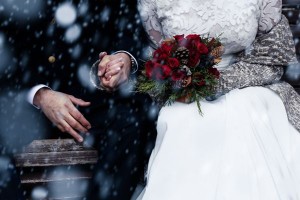 Four ways to add Christmas to your big day
December is one of the most magical months of the year, so it's no surprise that it's a popular month for a winter wonderland wedding. When getting married close to Christmas it can be a lovely touch to add some festivities to your day, whether that be a few additions throughout the day or theming your wedding around the holiday. There are many different ways you can make subtle changes to add a touch of Christmas to your day, keep reading for four different ways you can incorporate the feeling of Christmas into your wedding.
Centrepieces
Table centrepieces add a bit of decoration to your big day without being the main focus of the wedding. You can go as big or as minimal as you wish to create the perfect centrepiece for the tables at your wedding. Mini Christmas trees, decorated wreaths, fairy lights, you can get as creative as you wish when it comes to creating your perfect Christmas centrepieces. You can keep them all the same or mix it up a bit on each table, even using them to designate which table is which. 
Dress embellishments
Adding some extra embellishments to your wedding dress can give you that Christmas sparkle you're looking for. Whether you decide to add some muted lace with a snowflake pattern or go all out with sparkly appliques, there are so many different options to choose from that will create your dream wedding dress. Talk to your seamstress about the design you're looking for and they'll be able to help you understand what different options you have.
Decorations
Much like you can add Christmas to your tables, you can also add a festive touch to the entire venue. Most venues will already be somewhat dressed up for Christmas around the building, so why not incorporate that into your own decorations? This can even be done by adding certain colours into your room, such as golds, reds, and silvers to add that cosy Christmas atmosphere. Fairy lights and other festive decorations will also add to creating the environment you are looking for.
Photo opportunities
Weddings are the perfect place for pictures, so why not add some festive props? People love to have fun and dress up for a photo or two, so providing props is a great way to get some fun pictures of you and all your wedding guests. Whether you have a designated photo booth, or just have different props laying around on each table for guests to pick up, this is a great way to add some festive fun to the day and get some fantastic pictures. 
Both weddings and Christmas are magical times, so mixing the two together creates a wonderful atmosphere. Having a Christmas wedding doesn't mean you have to focus too much on festive decorations but adding a few touches here and there can create the winter wonderland wedding you've been dreaming of.
---