Before you become a bride it can be easy to overlook how much work goes into planning your dream wedding, including getting that perfect dress. The task doesn't just stop in the bridal shop when you choose your dress, or after inheriting your dress from a family member, there is a whole extra step: alterations. 
Tips for Your Alterations Appointment
When you first hear about alterations it can feel quite overwhelming. All the decisions you need to make about your dress, how to prepare for your appointment, what you need to bring, when to have your final fitting, there is a lot of thought that needs to go into it. Well, worry no more! We've put together a guide to your wedding dress alterations to help you easily understand all you need to know. What seems like a lot is much more simple once you have an expert to help! Keep reading for all you need to know, do, and prepare for your dress alterations.
What do I need to bring?
For all of your alterations appointments you should aim to bring the following items with you:
The shoes you plan on wearing
The style of underwear
Any accessories you will be wearing
Bringing these items will help yourself, and your seamstress, get an accurate idea of what you will look like on the big day. It is important to have at least your final two fittings with all of these items, especially the shoes and underwear. How a dress fits can be massively impacted by the height of your shoes and impact of your underwear, so your dress needs to be tailored to these specifications.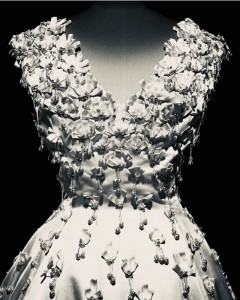 When should I have my appointment?
When you have your first appointment depends on how much work you need to have done to your dress.
If you are just looking for a few simple changes and having the dress tailored to fit you, we recommend coming in for your first appointment roughly 3 months before your wedding day. This way we have the time to make sure your dress fits you perfectly without the need for any rush orders or last minute appointments.
Your final fitting will typically be a few weeks before the wedding when you are unlikely to change size so your seamstress can get an accurate idea of what you will look like on your wedding day.
What can I change about my dress?
Wedding dress alterations can be as large or as little as you wish. Some brides simply want their dress fitted, whereas others may come in for a complete restructure. It really depends on the circumstances and the bride's personal preference. Whether the changes are possible or not are dependent on the current dress, though any professional will be able to guide you. Here are some of the things you can change about your dress:
Fit
Neckline
Length
Fastener
Applique
Shape
Who should I bring with me?
Who you bring with you is an entirely personal decision, though we do recommend not bringing too many people. It can be good to have a few close family or friends there to help you make any final decisions, but having too many people can be confusing and overwhelming for the bride. If you are worried about hurting people's feelings, have different people come with you to different appointments so they all get to experience your dress fitting.
That is the main things you need to know when going into your wedding dress alterations. Follow this guide and you'll feel a lot less flustered about the whole process! 
---