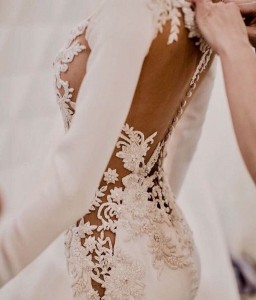 When you are planning your wedding there is always one thing in mind, how can I make this day extra special? Of course, just the fact that it's your wedding day is special within itself, but when you take the time to plan everything out in detail there are a lot of ways you can add an extra magic touch. 
Special touches for your wedding day
It can be difficult to get lost in all the details of planning your wedding and forget to take the time to think about the small things, and also consider what it is that will truly make your wedding day special for you and your partner, rather than for anybody else. We've put together a list of four ways you can make your wedding day more special and personal for yourself, so you can stop and think before getting too overwhelmed by all the bigger details!
Incorporate something inherited into your gown
For many people family is one of the most important parts of their wedding day. It's all about bringing together two people, and therefore bringing together two families, so it is nice to have those little details that really represent the importance of family on your big day. One way to do this is to incorporate something into your wedding gown. 
If you are fortunate enough to still have a family member who has their wedding gown and would love for you to use it, then go for it! You don't have to keep the dress as it is, you could even buy your very own gown and then have some of the old details added through alterations. Whatever it is you want to do, speak to an alterations specialist and they will be able to advise you on your options.
Keep it intimate
Having a smaller wedding isn't for everybody, some people want it big and bold and that is completely fine! At times people forget that an intimate wedding is an option, as we are so used to seeing the big venues and big parties that most weddings have. If you feel like having a smaller and more intimate wedding would make your day extra special, then that is exactly the type of wedding you should have. Your wedding day should be all about you and your partner and if you don't feel like a massive wedding is suited for you, then keep it intimate and special with those closest to you.
Choose your venue first
Ultimately, your venue is going to be one of the most important and defining aspects of your entire wedding day. A large part of what you are able to do on your wedding day is going to be determined by where you choose to have it, so you need to make sure before you come up with any solid wedding day plans that you set your heart on that you find a venue capable of this. As well as this, it means you can plan everything around the venue, and when it works like this it just adds that special touch of pure elegance and organisation, tying everything together. There is so much that goes into the choice of venue, and you need to make sure that you are doing all you can to get it right.
Make it personal
As already mentioned your wedding day should be all about yourself and your partner, and a great way to solidify that even more is to add some personal touches. Weddings are a great place to bring out some of your most beloved pictures together, whether that be dotted around the venue or featured in a photo album people are able to look through. You can even take it one step further by using little details to make reference to you. For example, table names could be all the different places you've been on dates or the locations where you've gone on holiday. These details might seem small, but they can make all the difference in making your wedding day extra special. 
---