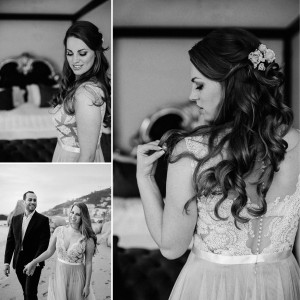 Wedding Dress Alterations in London
London, home to houses of parliament, Big Ben, Buckingham Palace, and thousands of brides every year. Getting married in this famous city is a dream come true for many brides, but, of course, a lot of planning must go into it. One of the main things you need to think about is once you've found that perfect wedding gown, where should you go to get it altered? How much will it cost? What alterations can be done? Question no more – read out blog all about altering your bridal gown in London and how to find the personal touch you have been looking for.
Where should I go?
Finding the right place for you is the first step in wedding dress alterations. London is a big and busy city, so it can be difficult to find the personal touch you are looking for with bridal gown alterations. When you are putting something as precious as your wedding gown into somebody else's hands, you want to make sure they truly care as if the dress was their own.
At AB Wedding Dress Alterations, we always provide a personal and professional service, taking you away from the busy streets of London and making you feel like the only bride in the world. Our experienced seamstresses love working with brides, and will do everything they can to make sure your gown is absolutely perfect for your big day.
How much will it cost?
The cost of your alterations will depend on what work you are having done to your gown. In your initial consultation with your seamstress, you will be able to talk through all of the elements you want altering on your gown. Once this is discussed and your seamstress has worked with you to have a complete idea of the vision you have for your dress at the end of this process, you will be given a quote of how much alterations will cost. 
What can be done to my gown?
There are a range of alterations that can be done to your wedding gown. One of the most common alterations is having your gown fitted properly, so that you look and feel your best on your big day. Fittings are done in a few stages with your final one being a few weeks before the wedding, allowing both yourself and your seamstress to know exactly how it is going to look on your big day while still having time to make some last minute changes.
The fit isn't the only change you can make though, you can also change aspects of the design of the dress. Whether you want some simple additional appliques added to your gown, or you want a complete structure change, you should come in and have a chat with a seamstress to see what changes can be made. What alterations can be done does depend on the current structure and style of the dress, which is why it is best to talk to a professional. Read our alterations page for some guidelines on the services we have available.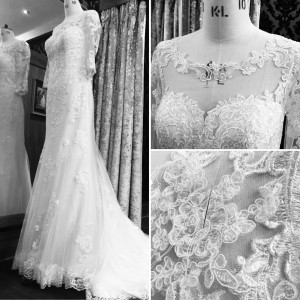 Don't let the business of London make you feel overwhelmed about altering your gown! We offer completely free initial consultations and won't start any work until the price is completely agreed upon. We also offer rush appointments for those of you who are running out of time! If you are looking to get your gown altered for your big day, get in touch with us! 
---